Via Carrie Fellner and Tom Rabe | The Sunday Morning Herald
---
Construction workers will be able to return to unoccupied work sites across NSW from Wednesday on the condition the sites remain at half capacity and workers from COVID-19 hotspots are vaccinated.
Deputy Premier John Barilaro has announced construction workers from Sydney's eight worst-hit local government areas will be able to pick up the tools from Wednesday, for the first time since a snap ban took effect on July 17.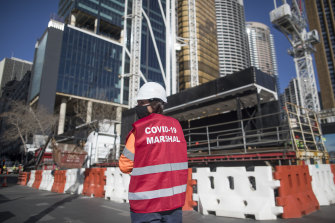 However a strict vaccination and testing regime will be in place for the workers from the affected local government areas: Blacktown, Campbelltown, Canterbury-Bankstown, Cumberland, Fairfield, Georges River, Liverpool and Parramatta.
"We want workers back on the tools, but we need to continue to keep this virus at bay, and so by opening unoccupied work sites at 50 per cent capacity and vaccinating workers from within those affected LGAs, we can achieve both," Mr Barilaro said on Saturday.
It comes as The Sun-Herald can reveal close to $8 billion worth of major infrastructure projects – including the new airport and Southwest Metro – have been on ice within Sydney's coronavirus red zones.
From Wednesday workers from those LGAs will have to provide evidence that they have received two doses of a COVID-19 vaccine before attending a work site, or one dose of a vaccine at least three weeks beforehand.
If it is less than three weeks since they received their first vaccine dose, the workers must be tested and produce a negative result in the 72 hours before attending a work site.
NSW Health is trialling rapid antigen testing, which if approved will be offered to the workers as an alternative to pathology tests, which can have waiting times of more than 48 hours for results.
Unoccupied construction sites across Greater Sydney, including the Central Coast, Blue Mountains, Wollongong and Shellharbour, will also have to operate at 50 per cent capacity from Wednesday.
A mass vaccination day targeted at construction workers has been announced for next weekend.
"We hope to vaccinate about 8000 workers at Sydney Olympic Park on Sunday 15 August, with vaccines also available at some GPs and pharmacies," Jobs Minister Stuart Ayres said.
Exemptions will be in place for construction workers with medical or other conditions that make vaccination unsuitable.
While a broader Sydney ban on construction was lifted earlier this week, some of the city's biggest projects have remained on hold within the eight local government areas at the epicentre of Sydney's coronavirus outbreak.
An Infrastructure Partnerships Australia (IPA) analysis of Sydney's construction sector estimates $7.8 billion worth of major infrastructure projects are directly impacted by the ongoing restrictions in the LGAs.
These include early works on the Western Sydney Airport, the $16 billion Southwest Metro rail project and the $2.4 billion Parramatta Light Rail.
NSW Transport Minister Andrew Constance said while he expected an infrastructure-led recovery from Sydney's delta lockdown, he also acknowledged its impact on the construction industry could affect contracts on big transport projects.
"Invariably we will see claims brought. We're working directly with the sector and our partners in managing that," Mr Constance said.
"Anything that contractors can do to get their workforce vaccinated, the quicker we'll be out of this."
Infrastructure Partnerships Australia chief executive Adrian Dwyer said the reopening of construction on the major projects "will help to turn the economic tide of this lockdown and get one of the state's largest employers fully back to work".